The normally scheduled Want List Wednesday (and Cubs-themed blog) will be replaced today with get well wishes for Nationals catcher Sandy Leon.
I am a Cubs fan, through and through, no doubt about it. However, I live in Northern Virginia and my local minor league team is the Potomac Nationals, the Single-A Advanced affiliate of the Washington Nationals. My sons have taken more and more of an interest in the sport so we attended 15-20 games last season. Hard to beat $1 Mondays where tickets and hot dogs are just a buck. It's even more difficult to keep the boys from falling prey to all the Nationals hype in the area but I have to admit, the Nats are playing some exciting baseball right now.
My boys became interested in autographs last year too and although most of these guys don't have their own baseball cards yet, the team had a DAV giveaway set in the first month and then sold another team set midway through the season.
The Potomac Nationals were even the guinea pigs for my experimentation with custom cards as you can see below.
Fast forward to this past Monday. As I drove home from work I was listening to the Nationals pregame show on the radio. They announced that Sandy Leon was making his major league debut in place of Wilson Ramos who had just suffered a season ending ACL injury. That was kind of exciting (no offense to Ramos) because I had spoken with Leon several times last season after the games while my kids were getting autographs. While I wouldn't go so far to say he could pick me out of a crowd, I think he would remember the cards I made as he seemed to like them. My wife had spoken with his wife or girlfriend and one of my sons played catcher last season so he was one of his favorite players on the team.
I called my wife and she couldn't find the game on our basic cable (Orioles game was on instead) so we decided to try out the new sports bar/restaurant that opened up a couple blocks away. Not only were there big TVs all around the restaurant, but each booth had its own personal TV. Great start!
We watched the Nats take an early lead but Leon struck out in his first Major League at bat. A little disappointing, but hey the Nats are still looking good. A 3-run rally in the bottom of the third that included Bryce Harper's first Major League homer run ended with Leon on deck. No problem...
And then in the top of the 4th...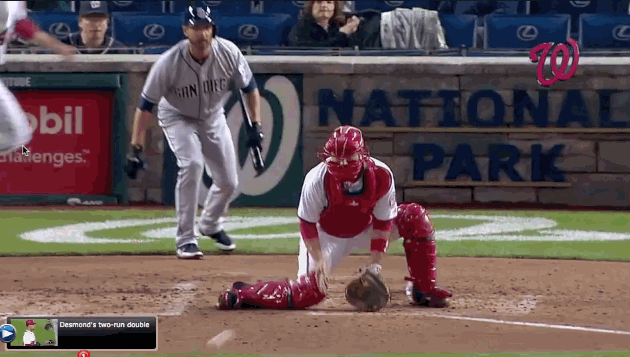 ...a play at the plate. Leon's right foot gets caught up underneath him as Chase Headley barrels into him. Not a dirty play but c'mon, only about an hour into his debut? Luckily it is just a high ankle sprain and he'll be out for about a month but not only does he have to heal and rehab, he then has to fight his way back up the depth chart. It's absolutely heartbreaking to think that this could be his entire MLB career. You hear about those guys who only make it for a cup of coffee but this one hit home.
What started as an exciting dinner, watching the game turned into utter disbelief. I hope Leon can stick with it, and even as a Cub fan, I'll be pulling for him.